Final Live X-ray Seminar for Chiropractors
and X-ray Techs completed in Philadelphia
This marks the end of our live seminars for X-ray Safety.  Still need the required credits? Want to get a jump on your credits for the next four-year rotation?  We have the X-ray Safety course now available online.  The State Board of Chiropractic has recently granted credit hours for our four-hour online course.  The credits are also valid to be applied to the 24 CE credits due by September of 2022 for your license renewal.
Dr Smith's online course is available at Sherman.edu/online-ce
X-ray Safety
This program is presented to sharpen X-ray skills and safety needed in practice. It is presented as a way to meet the X-ray safety requirements in state regulations. It has been approved for up to four hours of continuing education in Pennsylvania.  For ACRRT certificate holder it will meet their radiation safety requirements.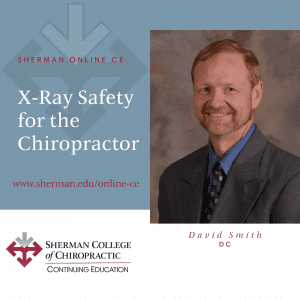 Course Highlights
Patient safety regarding ionizing radiation and preferred protection techniques
Patient safety for the individual segments and full spine x-ray
Radiology and quality films, finding what you expect and finding the unexpected
X-ray in the new age of technology- digital x-ray
Radiation production
Contraindications to care, the need for referral to another practitioner
Regulations regarding continued use of ionizing radiation in the Commonwealth of Pennsylvania
Program to establish quality control
The postgraduate programs sponsored, co-sponsored or hosted by Sherman College of Chiropractic may not always reflect the view of the college of its employees.