2022 Summer Seminar Series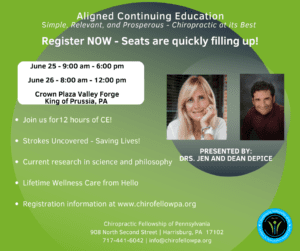 2021 Chiropractor of the Year!
Join us in congratulating Dr. Aaron Tressler, DC as the recipient of the Chiropractic Fellowship of Pennsylvania – 2021 Chiropractor of the Year award! This newly created award will be presented annually by the CFoP board to a DC who goes above and beyond to help the Chiropractic Fellowship of Pennsylvania. Dr Tressler was selected to receive this award for stepping up to be president of CFoP, as well as his passion for chiropractic, and his dedication to the fellowship.
Who We Are…
The Chiropractic Fellowship of Pennsylvania (CFoP) was established in June of 1967 to help protect the rights of principled chiropractors. The Fellowship has a lasting purpose attitude; embracing the idea that one should love, serve, and give from one's abundance without compromise.
CFoP members have numerous types of practices from cash to insurance, various office procedures, and different adjusting techniques. What unites us is not what is in our office, but what is in our hearts. We stand firm on the belief that everyone should have access to chiropractic care for the correction of vertebral subluxation. We are dedicated to protecting your rights and privileges to practice chiropractic in the state of Pennsylvania.
<!=========Events Static list Template 2.2.1=========>
CFOP's Position on "Choosing Wisely"
X-Ray Guidelines
Become a Member or Renew
Your Membership
Member Benefits
Provide updates on political issues, potential law changes, current insurance information, and other issues relevant to your particular area.